Martin Charlesworth.
I was born in Yorkshire in 1950. My family background was mining on one side and farming on the other. I went to Warwick University to study Molecular Sciences (Chemistry/Physics/Biochemistry) and later an MBA at Manchester Business School. On leaving University I joined BT and worked in Logistics in various operations management jobs until 1980. I then joined BTCV (the practical environmental charity now known as The Conservation Volunteers) and worked to deliver the 'Peoples Places' lottery grant scheme to disadvantaged community groups. After a few years there I joined the Forest of Bowland AONB Unit and worked on many small community projects. When I retired in 2010 I helped set up the Friends of Bowland who hold events and run practical tasks in and around Bowland. I am Secretary of the group and lead the practical tasks. I joined CB as a trustee in 2014. I'm keen to help develop fundraising for CB and support projects that people in Bowland will appreciate.
Mike Pugh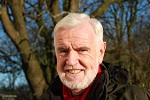 I was born in Bolton [when it was still in Lancashire] but grew up in the East Midlands. I have degrees from Cambridge [Economics] and later Nottingham [MBA with Distinction]. I enjoyed a career in Sales and Marketing with both multi-national corporations and British SMEs, including new start-up and acquisitions, and had experience of export markets in Europe and Far East. We moved to Bowland on retirement looking for peace and quiet but I ended up in an exciting role as Business Development Officer working for the AONB. In 2006/7 I developed the Sustainable Tourism Network as part of the Europarc Charter process and introduced the Green Tourism Business Scheme to Bowland. In 2009 I established Bowland Experience Limited and set up what later became Champion Bowland. I retired from the AONB in 2014 but in 2018 returned on a voluntary basis to become a Trustee of Champion Bowland.
Jill Myers
Lancashire born and bred, I moved down to London to first study Environmental Science, then armed with an MSc in Information Science I worked in local government and industry as an information researcher when noisy modems and floppy discs were cutting edge! After 10 years I came home to help introduce personal computing to the offices of Norweb, identifying needs and providing training company wide. While raising a family in the area I studied Law then retrained as a primary school teacher working across Lancashire and Greater Manchester. Several years later I returned to Law and volunteered at a Citizens' Advice Bureau while studying Legal Practice then worked as a legal advisor within Lancashire. I've since stumbled over the border into North Yorkshire but still within the beautiful Forest of Bowland where I welcome tourists to my holiday accommodation business. I've supported several Bowland networks since then, became a Trustee of Champion Bowland in 2019 and I'm looking forward to helping develop new initiatives to support the economic wellbeing and enjoyment of our AONB.